Give DeKalb County is a fundraising day supporting nonprofit organizations in DeKalb County. Every donation is BOOSTED through the Bonus Pool, so your donation goes even further towards helping homeless pets at Tails Humane society!
On Thursday May 4th, donations can be made online from midnight to midnight at
GiveDeKalbCounty.org.
Every dollar you donate to Tails earns us more dollars from the Bonus Pool! Mail-in donations are accepted April 20th-May 4th. Download the mail-in form
here
.
Your donations help us save the lives of homeless pets with nowhere else to go. Save the date and help us keep saving lives!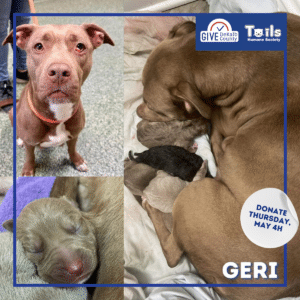 Pregnant and running out of time, Geri needed a miracle. She was approaching her time limit at a local animal control facility and faced euthanasia within the next 24 hours.
Your donations paired with quick action from the staff at Tails Humane Society saved the lives of Geri and her puppies with not a minute left to spare! This is a very real story, and unfortunately one that isn't all that uncommon for homeless pets. Your support can be the difference between life and death for some of these animals.
A few days after being rescued, Geri gave birth to 7 puppies. They are all resting comfortably and growing in a foster home until the babies are old enough for adoption. Then it will be our mission to find Geri a forever home where she never has to face such dire circumstances again!
You can change the world for pets like Geri, and make sure puppies like hers get a chance to see it. 
Imagine this: You walk out to your car to run some errands, and you hear something strange nearby. What you find is a one-day-old kitten, helpless and alone! What do you do? This kitten needs help and FAST!
Thanks to generous animal lovers like you, Tails Humane Society is a resource for kittens facing life or death situations like this. Lil' Man was found under the exact circumstances we just described, which left him at unfavorable odds. Such a young kitten is not built to survive without its mother, so it takes specialized round-the-clock feedings and animal care know-how to successfully raise a kitten on its own.
Lil' Man faced several challenges along the way including digestive issues and slow growth, but he eventually grew in the loving and playful kitten we know today! He was the perfect addition to his forever family, who are eternally grateful for the people who made his life possible.