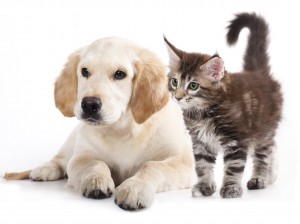 Here's what to expect when you arrive at Tails:
You will be greeted by a staff member as you enter the shelter. You are welcome to walk around and look at the animals we have available for adoption. If you are looking for any particular kind of pet, please talk to a staff member to see if we have any animals that might be a good fit. We take into consideration factors such as: kids, level of activity, your experience owning pets, other animals currently in the home, etc. Once you have selected an animal you are interested in, let staff or volunteers know that you'd like to visit with the animal in one of our private visiting rooms.
We believe that bringing a new animal into your home is an important decision, so plenty of time will be given to make a decision without feeling rushed. Staff and volunteers will be available through this time to answer any questions you may have. Once you've made your choice, an adoption counselor will begin the adoption process. You'll fill out a survey and staff will discuss how to best introduce the animal into your home. Our adoption contract will be reviewed, you'll pay the adoption fee and take the animal home with you!
Felines
Kittens*
$150
Adult Cats
$75
Senior Cats**
$50
Canines
Puppies*
$450
Adult Dogs
$350
Senior Dogs**
$225
Forget Me Not
$200
Critters
Mice
$5
Rat, Hamsters & Gerbils
$10
 Guinea Pigs
$15
Rabbit, Intact
$35
Rabbits, Spay/Neutered
 $75
Birds
(Varies by species)
*Less than 6 months old
**6 years or older
Join our team! We are currently hiring for the positions of Veterinary Assistant, Clinic Office Assistant and Program Coordinator. Learn more now.
Adopters must be 18 or older and show a photo ID with current address. Renters, please bring a copy of your lease showing you are allowed to have animals.
All adoptions include the spay or neuter, microchip, all vaccinations needed up to adoption, heartworm test (dogs 7 months and older), FIV/FeLV test (cats 6 months and older) and a free vet wellness check.
A coupon good for $20 off of an eligible 6 week Tails Obedience Class is included as an adoption benefit for puppies and adult dogs (not included for senior dogs) making the training course just $105! Learn more about our training program here.
Please note: DeKalb County requires that all residents have a current DeKalb County Rabies Tag for each dog and cat over 4 months old. The county fee will be required at the time of adoption and Tails will issue the Rabies Tag. The fee is $20 for a one year tag or $52 for a 3 year tag, based on the vaccine given.
Frequently Asked Questions
Do you have any requirements for adoption?
In order to adopt, staff will need to see a driver's license or state ID. If you rent, we will need to see a lease to verify that you can have an animal where you live. Some form of payment will be required, we accept cash, VISA, MasterCard and Discover. We do not accept personal checks.
Am I allowed to bring my current pet in to meet the animal I'm interested in adopting?
If you have a dog already, we do like to have them meet your potential Tails adoptee (please bring proof of current vaccination status). If weather permits, introductions are done outside on leash. You must visit with the Tails dog and decide you want to adopt before we will introduce him/her to your current dog.  We ask that you don't bring your own dog inside, instead come into the shelter and ask staff if we can introduce the dogs to each other. A staff member will come outside with the Tails dog to introduce them. Please don't bring your cat or other pets to Tails. Instead, we'll explain how to properly introduce them in your home to a newly adopted pet.
Can we take the animal home the same day?
Yes! After completing the adoption process animals can leave the shelter that same day. Keep in mind cats are required to go home in carriers and we don't provide leashes for the dogs. We do have these items for sale.
How long does the adoption process take?
On average, the adoption process last 30 minutes. However, be prepared to spend at least an hour or longer in the shelter