To build a compassionate community through the care of companion animals.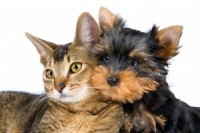 Tails Humane Society cares for over 2,800 displaced pets each year. We accept pets from owners who can no longer keep them and from Good Samaritans who have found a homeless pet. We also work with animal control organizations and other animal shelter to rescue at-risk animals from overcrowded shelters. As a managed admission shelter, we provide quality, individualized care for each animal ensuring they have the best chance at adoption.
Find your new best friend at Tails Humane Society! We have many wonderful animals waiting for their forever homes. Whether you're a cat fancier, a dog lover, or you have a place in your heart for the feathered or the small and furry, think adoption first. Think Tails.
Every year, millions of cats and dogs are euthanized in the United States due to the tragedy of pet overpopulation. We also know that the best way to fight overpopulation is through the spay/neutering of all owned animals. That's why we operate an affordable spay/neuter program available to all pet owners regardless of income or residency. Call today for your pet's appointment – (815) 758-2457 ext. 114.
Is Fido pulling on the leash? Is Sparky a little too spunky? If your dog or puppy is sometimes a bit difficult, Tails obedience classes can help. We offer positive reinforcement training for dogs of all ages and levels. Call us – we'll help you communicate with your canine companion.
To read about the policies of Tails Humane Society, please click the links below: